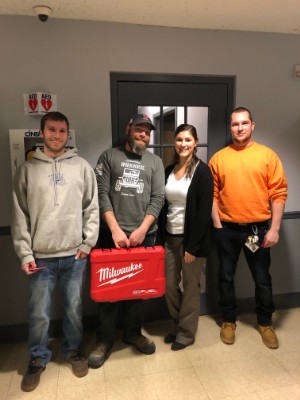 The journey of becoming an electrician has changed my life in many ways, which is exactly why I endeavored to changed careers after many years in the restaurant industry.  The restaurant industry was great when I was single, and even worked out well as a young husband and father.  It paid most of the bills, let me be creative with the food I cooked and even led to many great relationships, including my wife.  The demanding hours and stresses of the industry, however, took their toll over the years.  I was missing my kids growing up, their sporting events and school functions.  I never saw my wife except as show ships passing in the night.  These issues almost lead to divorce.  I knew I needed a change.
It was actually a server at the restaurant I was working in at the time who suggested the electrical field.  He had just started with IEC and told me that he really enjoyed it.  He suggested that I look into it, which I promptly did, coincidentally, a few weeks before the deadline to enroll.
It was exciting to begin learning a new field.  I enjoyed the coursework and it was satisfying to gain knowledge about something I didn't really understand before.  It took me another year to find a company that would hire me as an apprentice and that year was difficult to juggle everything going on in life.
Since becoming fully immersed in the journey and leaving restaurants behind completely, life is great.  I sincerely hope that no one ever takes nights and weekends home with their families for granted.  It has made all the difference in my family life.  I now have a career that is not only mentally and physically challenging, but affords me almost all of the time I could possibly spend with my loved ones.  I get to see my daughter's plays at school and my son play soccer and basketball; moments I would have missed forever.  I thank God for the opportunity to start a new career.  It has made my life happier and much more satisfying.